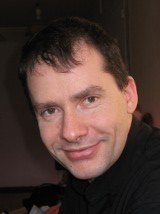 Sébastien Devaux, IT Engineer
Project management, System and Software architect.
Personnal information
Nationality: French
Born: 1972, married, 3 children.
E-mail: sebastien dot devaux at laposte dot net
Education
October 1996 : D3I, industrial IT engineering degree from "Polytech'Tours" (formerly: E3i).
Final year project: "ARTCS: a hybrid classifier system for perceiving images with the adaptive resonance theory" presented at ICML'96, July 1996 Bari (Italia).
June 1993 : DEUG A, Mathematics degree from faculté des sciencesi - Tours.
July 1990 : Bac C (Mathematics, sciences) - Orléans-Tours academy - lycée Paul Louis Courier de Tours.
Professionnal experience
Since September 2003 (aside positions held at Adentis, Detexia and Airbus defence and space) FOVEA reasearch team member - IT lab from university of Tours.
Ecole Polytechnique Universitaire, 62 avenue Jean Portalis, 37200 Tours.
Research Topics: visual data mining and biomimetic algorythme. Projects:


grant : Computing Grid using artificial ants for load balancing.
Datatube: interactive 3D rendering of time series.

Since January 2001: Simulation engineer, Airbus defence and space (formerly Astrium).
From April 2008 to December 2010 : CTO, Detexia, head of R&D department DexTER.
Detexia, 10 Avenue de l'entreprise, 95863 Cergy-Pontoise cedex
Development and integration of IT, electrionic and industrial systems. ISO 9001/V2008 Certified. Crédit Impôt Recherche agreement (agreement delivered by french governement's industry department).

Main realizations:

Simulators supporting weapon system V&V process.
Deterence weapon system training simulator.
Simulators' supervision software.

R&D project:

low cost HPC means: SIMD architectures (vector processing units, Cell BE processors), GPGPU andt OpenCL.
Project DSPBook: mobile measurment, data acquisition and signal processing platform.
Projet EGPI: Project management driven by integrated SCM and issue tracker.
Datatube improvments targetting software development support: 3D rendering of multi-threaded software logs and IP network monitoring

From September 2001 to March 2008: Software engineer, integration, configuration management, object oriented software specialist. Adentis
Adentis, 6 avenue de Verdun, Les Champs Philippe, 92250 La garenne Colombes

Setup, deployment and administration of the software configuration management system dedicated to support the development of the french air force's mission planning system. (SAGEM DS).
Software architect: design of a tank embedded information system (SAGEM DS).
Project management: developent of supervision software to drive a V&V support simulator (DETEXIA / EADS ST).
System engineering: definition of the requirements of supervision software to drive a training simulator (DETEXIA / EADS).

From January 2000 to August 2001: Software engineer at ACCOM multimedia, software development, networked applications, websites, internet/intranet.
ACCOM multimédia, 45 rue St Sébastien, 75011 PARIS.
From October 1997 to December 1999: software engineer at cegedim; healthcare applications software. Developped the sesam-vital (french national healthcare network) data communication service for Doc'ware et Medigest software products.
Cegedim, 116 rue d'Aguesseau, 92100 Boulogne Billancourt
From October 1996 to Septembre 1997: military period as scientist at french air force. System administration of unix and windows NT graphic workstations dedicated to digital geographic data production. User support.
Etablissement de Production de Données Géographiques, Base Aérienne 921, TAVERNY (Val d'Oise)
Publications
S. Devaux, F. Bouali, G. Venturini (2014), DataTube4log: a Visual Tool for Mining Multi-Threaded Software logs, Procedings of the 18th international conference information visualisation (IV 2014), 189-195.
S. Devaux (2010). Le pixel, le polygone et la matrice - le calcul par processeur graphique. GNU/Linux Magazine France n°129 (Juillet/Août 2010), 60-69.
S. Devaux (2009). Initiation au calcul intensif sur PS3. GNU/Linux Magazine France hors-série n°43 (Août/Septembre 2009), 74-82.
G. Venturini, S. Devaux (1996). ARTCS: a hybrid classifier system for perceiving images with the adaptive resonance theory. 13th International Conference on Machine Learning , Procedings of the pre-conference workshop on Evolutionary computing and Machine Learning, 53-60.
Skills
Software engineering:

Modelling: UML, Merise, SADT/SART, relational data modelling.
Languages : C/C++, C#, Java, Pascal, prolog, OpenCL, python, javascript.

Systems and platforms:

Unix: AIX, Solaris, Linux...
Windows
TCP/IP networking: internet / intranet (http, html, xml, cgi, asp, jsp), communications protocols (smtp, pop, imap, ftp), router, firewall.
Web servers: Apache, J2EE, .Net

Databases:

Relational modelling and algebra - SQL
DBMS : MS SQL Server, PostgreSQL, MySQL.
"no SQL" databases: simple file system based persistance. XML Documents XML, XSLT transformations and XPath query.

Configuration management:

Subversion, RCS/CVS, SCCS, Sun Teamware, Telelogic Synergy (Continuus)

Languages:

French: native speaker
English: written
Hobbies
Sport: Diving - practice, judging and coaching. 2006 french national master 25-35 year old championship: two gold medals. 2013 french national master 35-50 year old championship: one silver medal.
Books/Movies: science fiction, fantastic.
And play with my children...